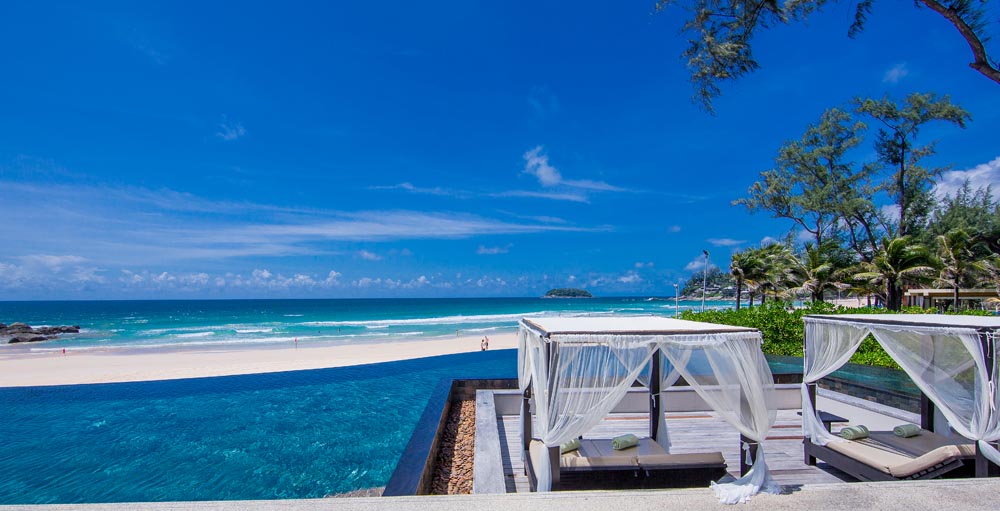 The Shore at Katathani
Katathani, Phuket, Thailand
Luxury Beach Resort Phuket
Luxury Beach Resort Phuket Thailand, The Shore at Katathani, your luxury holiday in Thailand starts right here when you step into this beach front pool villa resort on Kata Noi Beach in Phuket. Voted one of Phuket's best beaches and is one of the islands' most visually stunning beaches.
The Shore at Katathani is a small luxury hotel in Thailand offering a natural fusion of indoor and outdoor living where time has no meaning beyond the pleasure of every moment. Feel stress melt away as you are pampered by the staff or just wind down and relax in this adult only Thailand beach hotel. Experience a seaside retreat of boundless splendour that you will remember forever.
The Shore at Katathani is luxury boutique villa resort. Each villa has a private infinity pool, sunken lounge, and a sophisticated interior design combining soft colours and natural textures with gentle oriental touches that are to die for.
When not enjoying the privacy of your own pool there is a stunning panoramic infinity pool with views out to the ocean and the stunning beach.
The Villas are an adult's only paradise with no children under 12 allowed
Situated at the far end of stunning Kata Noi Beach the Shore at Katathani is set on the hillside and the accommodation at the property is made up of 48 villas each leading out to a private deck and pool the majority have Ocean views with just 5 garden or hill view.
The Katathani is the sister resort located adjacent where guests from The Shore can use all the facilities.
ACCOMMODATION
Accommodation
Experience the ultimate blend of contemporary interiors, luxurious seclusion and boundless space. Each villa features a private infinity pool, sunken lounge, bath with rain shower and view of the ocean, and a sophisticated interior design combining soft colours and natural textures with gentle oriental touches.
Seaview Pool Villa 130sqm
Ocean-facing view, Private swimming pool and deck, Air-conditioning, Flat-screen satellite television, Sound entertainment system, Complimentary wireless internet, Mini-bar, Safety deposit box, IDD telephone, Hair dryer, writing desk, Laundry and dry-cleaning service, Bathrobes, slippers, umbrella, Coffee/tea-maker.
Pool Villa 130sqm
This category allows you to surround yourself in nature as you gaze onto lush green hills or vertical garden view from your personal pool. This spacious tropical hideaway features a bedroom, living/dining area and ample bath and all the facilities of the Seaview.
2 Bedroom Pool Villa 260sqm
The two-bedroom is split-level villa has all the luxury of the pool villa, Upstairs features a specious master bedroom. Downstairs features a separate living/dining area, a second bedroom and a common pool with private sunbathing area for up to four people extra amenities include a private swimming pool and deck, dining/living area.
DINING OPTIONS
Dining Options at the The Shore at Katathani
The Harbor   Open for breakfast, lunch and dinner.
The Harbor is a festive, contemporary restaurant beneath a high, airy ceiling, surrounded by spectacular views of Kata Noi Beach. Menu combines classic and inventive international cuisine that changes throughout the day.
The Lighthouse
The perfect place to meet and chill-out any time of the day. When the sun descends on tropical evening, there is no better place in Phuket to sit out, enjoy a relaxing drink, and feel the soft sea air.
The Cove
Indulge your love of the grape in our premier wine cellar, a rich collection wines from around the world. The Cove offers wine-tastings and wines for sale, and can also accommodate private dining parties and small business meeting.
FACILITIES
Facilities (some taken at Katathani Resort)
Swimming Pool in Villa and Infinity
Spa *
Fitness Centre
Free activities; tropical fruit picking, yoga classes and aqua aerobics
Gift shop
Tour desk
Library
Tennis courts
Game rooms
Golf Putting Greens